Hot Tub Moving Company in Toledo, Ohio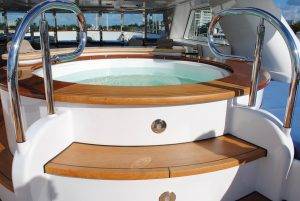 What is the hardest task you imagine completing during your move? If you've looked outside at your hot tub lately, scratching your head and thinking about your upcoming move, then you need to contact Stevens Moving & Storage of Toledo today. We are the best local and long-distance specialty moving company in the Toledo area with over 50 years of experience with moving heavy, awkward and sometimes dangerous objects like hot tubs. Without professional help, moving your hot tub can put you and your hot tub at risk of serious injury. If you have completed any maintenance on your hot tub, you know that inside its heavy-duty exterior are a multitude of parts that can be sensitive to damage during a move, so it's best to leave it to the professionals. Our movers will protect fragile parts with clean padding and wrapping as well as wrapping the hot tub to protect it from damages during its move. From disassembling and packing your hot tub to unpacking and installing it in your new home, Stevens Moving & Storage has all the answers when it comes to your hot tub move. And if your new home requires some updates before you can install your hot tub there, Stevens Moving & Storage of Toledo operates local storage warehouses to store your hot tub safely and securely until you can bring it to your new home.
Preparing Your Hot Tub For Your Move
Our company will handle all the moving and packing for your hot tub, but Stevens Moving & Storage of Toledo would like to suggest a few things that you will need to do to prepare your hot tub for its move to your new home. The first thing is to make sure you take an inventory of removable parts that will come off the outside of your hot tub. You'll have a list to make sure you can finish its installation in your new home as well as providing our movers with a detailed list of items to move with it. To make sure that it is ready for the movers, you must empty the hot tub off water and unhook it from your home water lines. Our movers will pack up all the accessories, including pumps, blowers, electrical units, heaters and plumbing units. If you're not sure which pieces you can safely remove and which you cannot, make sure you contact your professional hot tub movers at Stevens Moving & Storage of Toledo or your local pool supply professionals. And when it comes to moving your hot tub, we highly suggest filling out our free online quote form or contact us by phone to have our professional estimator come out and make a custom plan for your hot tub move.
Hot Tub Storage Company in Toledo, Ohio
Moving into a new home can be an incredibly rewarding experience, but often Stevens Moving & Storage of Toledo have found that our clients' new homes require some updates before their new home becomes a perfect fit. If this is the case for you and you need to store your hot tub locally while your renovations are completed, Stevens Moving & Storage of Toledo offers local warehouses for your hot tub storage. Our facilities are secure, clean and monitored 24/7 to ensure the safety of your belongings. Our movers will wrap and protect your hot tub for storage, and make sure that it is ready for you to bring it into your new home as soon as you're ready.
Get your Free Hot Tub Moving Quote
We want to get to know your moving needs as soon as possible. If you need a large item such as a hot tub moved, we can provide you a quote and send an estimator out to your property to make sure we have all the information we need to help you get settled into your new home. Fill out our online estimate form or call us at (419) 729-8871 today to get your free hot tub moving estimate.