Storage in Toledo, OH
For reliable warehouse storage services, call a professional moving and storage company with the top-tier facilities you need: Stevens Moving & Storage of Toledo. Whether you are planning a local move, long-distance move, or international move to or from Toledo, you may find you need somewhere to store your belongings. You may need extra space while home renovations are completed, a place to put equipment during an office relocation, or a clean storage space for excess furniture. Whatever your storage needs in Toledo may be, we can provide you with a safe and secure storage space that will allow you to focus more closely on other aspects of your move. Regardless of the size or amount of furniture and belongings to be stored, we have options that will meet any type of storage requirement. Our trained storage experts will handle your items with the utmost care and consideration, ensuring your belongings remain damage-free. Customer satisfaction is our goal so we want to make your moving and storage experience feel as effortless and stress-free as possible. Visit our blog "How To Choose A Storage Facility" for storage help.
Secure Storage Facilities in Toledo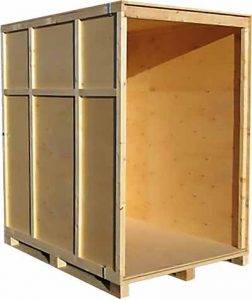 When you store your personal belongings and valuables with Stevens Moving & Storage of Toledo, you can trust that your items will be in safe hands. Each of our local Northwest Ohio-based storage warehouses are maintained to meet the highest quality standards regarding safety, security, and cleanliness. Our warehouse facilities are safe and very well kept, so you can be sure your personal belongings and office equipment will remain in perfect condition while they are in our care. Our expert staff is proficient in organization and storage practices, and ensure everything is protected and accounted for throughout the relocation process. With a wide variety of custom-built crates and containers, specialty items of any kind can be given secure padding and protection during their stay. Our facilities are well monitored 24 hours a day, 7 days a week, and every item is properly documented electronically, so whenever you want to pick up your belongings, they will be ready and waiting for you. Whether you need short-term or long-term storage, we have the perfect solution for you at an affordable price.
Toledo, Ohio Storage Solutions
Whether your storage needs are residential or commercial, large or small, we have the perfect storage solution for you. If you're planning to move in the future or you require sudden and urgent storage, our storage experts are ready and willing to assist you. Our customers reap the benefits we provide thanks to over 45 years of storage experience. We have the knowledge, equipment, and skilled staff to provide you with exceptional storage services. Your complete satisfaction is our goal, so choose Stevens Moving & Storage of Toledo for your Toledo storage needs today. If you have any questions about how we can assist with your Toledo storage needs, contact us or fill out our online estimate form for your free storage quote.