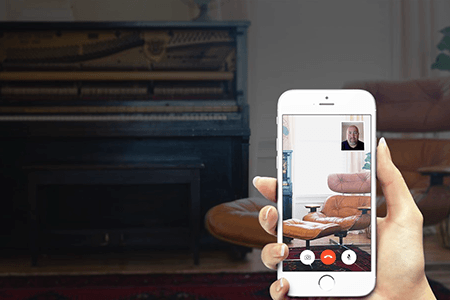 Normally, the natural part of hiring a moving company would be to have a moving specialist come to your home and take a tour with you to discuss your needs.
While that hands-on approach is valuable and still relevant today, there is an even easier way. You can now schedule a live stream video estimate for your move with a moving expert! No need to host anyone in your home—our staff will send you instructions detailing how to install the live stream video software. There are so many benefits to getting a video estimate for your move, we almost don't even know where to start.
Here are some of the biggest reasons why you would want to schedule a video estimate for your next move:
Schedule on Your Own Time
Video survey estimates make it extremely easy to schedule. You won't have to set aside a two-to-four hour block of time to have an estimator over to your house. For average-sized homes (3 bedrooms), getting a live video quote takes just a little over an hour!
That's a huge time saving that translates to more time with your family, more time to plan and less time scrambling to finish preparing for our move at the last minute.
The video estimate is also especially useful for those moving on short notice, who might not be able to schedule a date for an estimator to come to their home or cannot spare the time before their move.
It Works For Nearly Every Move
The live stream video estimate process isn't just limited to simple moves in small homes. Video estimates are great for large home moves, and they can even estimate complicated moves that require short- & long-term storage, multiple delivery locations, packing services and home protection. Just make sure to discuss any special services that you are interested in during the quote process so that the estimator can get the most accurate free moving quote for you.
A selection of moving services that we can quote over a live stream video:
If you're not sure whether you can schedule a video moving estimate for your move, just give us a call at (844) 913-2629 or fill out the contact form on this page!
Help Your Movers Understand the Unique Challenges in Your Home
No two houses are alike. Not even in the suburbs. That's why it's vitally important to get a mover into your home to understand what your home is like, how large or how small the doorways are, where the stairwells are, parking issues and many more factors. That's why we always recommend an in-home estimate or a video estimate instead of a simple phone estimate.
Your service will be better & your move will go more smoothly because of the video move survey, and you will save money in the long run with no unexpected costs on delivery day.
Schedule a Live Stream Video Estimate Today!
There are tons of advantages to doing a video estimate when your next move comes. It's more convenient, shorter, just as accurate and it works for nearly every kind of move! If you already have a move date in mind or even if you're just in the early planning stages, schedule your estimate today.