Office Movers
Quick Read
Looking to move your office in, around or from the Toledo area? Count on the experienced movers at Stevens Moving & Storage of Toledo to get your business moved. Our office moving services include:
Electronics Packing & Shipping
Asset Management
Warehouse Storage
Off Hours Moving
Customers choose us to help with their office relocations because we:
Are Available 24/7 for Questions, Comments and/or Concerns
Offer Free In-home and Virtual Surveys
Are Family-owned & Operated
Background Check All Our Employees
Use Clean, Protective Pads for Your Belongings
Are Fully Licensed, Insured & Bonded
Are Rated A+ by the BBB
Have Over 45 Years of Moving & Storage Experience
For more information on our office moving services in Toledo, contact us at (419) 729-8871 or fill out our quote form today.
Expert office moving company serving Toledo, OH since 1969.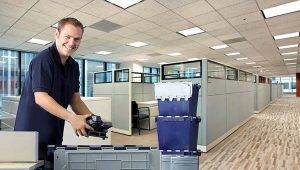 Whether you are looking to downsize or upgrade your office space, you have a big task at hand. Office relocations can present different challenges than those of a typical residential move. Without proper help, you are at risk for possible loss or downtime to your company's operations which is why you need a mover that works for you and includes night and weekend availability.
As an experienced office moving company, Stevens Moving and Storage of Toledo can help move your office with minimal downtime or disruption to your office's day-to-day routines. Since 1969, we have been the trusted commercial movers offering local moving and long-distance moving services in the Toledo area.
Toledo Office Moving Services
Warehouse storage, asset management and office furniture moving services.
As a business owner, we know your number one concern when moving your office is the effect it will have on your business operations. That is why Stevens Moving & Storage of Toledo offers moving services that fit in or around your schedule. We can move your business efficiently eliminating the threat of potential downtime.
With years of experience in the moving and storage industry, we know the best methods and procedures for packing, transporting and unloading your office equipment. Whether you require office furniture movers or a complete team to handle all office assets, we have the office moving services you need:
Electronics Packing & Shipping: We have the capabilities for shrink wrapping, palletizing and preparing your used office electronics for shipment to its new owner.
Asset Management: From library moving to project management, we can handle all your business assets during office relocation. We can coordinate how you move and organize your company's assets most efficiently.
Warehouse Storage: If you need to store office furniture or equipment for the short or long-term, we offer storage solutions for you. Store your office belongings in our safe and secure climate-controlled warehouse facility.
Commercial Moving Toledo, OH
"Expert and affordable commercial moving services."
When you need help relocating your office, there is only one clear choice among all office moving companies in Toledo. As an office relocation company, we are dedicated to providing you with exceptional commercial moving services. Our moving crew is professionally trained in relocating your office without causing any disruption to your day to day. We have the equipment, resources and expertise!
Contact us today at (419) 210-3933 to learn more about our commercial moving services. To begin your next office relocation today fill out our online form and receive a free office moving quote today. For the best office moving services with minimal downtime and no disruption, go with the professional Toledo movers at Stevens Moving and Storage of Toledo.