Packing Services in Toledo, OH
Quick Read
Stevens Moving & Storage of Toledo can help when it's time to pack. Our packing experts can provide:
On-site packing and unpacking services
Packing supplies
Specialized wrapping and packing for large or bulky items
Short or long-term warehouse storage
Our customers choose us for their packing needs because we:
Are Available 24/7 for Questions, Comments or Concerns
Offer Free In-home and Virtual Surveys
Are Family-owned & Operated
Background Check All Our Employees
Use Clean, Protective Pads for Your Belongings
Are Fully Licensed, Insured & Bonded
Are Rated A+ by the BBB
Have Over 45 Years of Moving & Storage Experience
For more information on our moving services in Toledo, contact us at (419) 729-8871 or fill out our quote form today.
The best packing help in Toledo since 1969.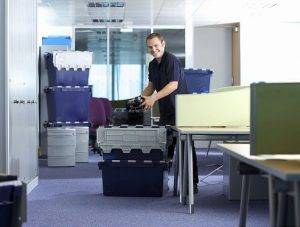 Packing your belongings is one of the biggest tasks in the moving process. If not done correctly you are putting your possessions at risk of damage during transportation. That is why Stevens Moving & Storage of Toledo offers business and home packing services for your convenience.
With already notable local moving and long-distance moving services, offering packing services is just another way we can help maximize your move.
Toledo Packing and Unpacking Services
Stevens Moving & Storage of Toledo is a full-service moving company that can offer you a variety of packing services to accommodate to any help you may need:
Choosing Moving and Packing Services Near Me
As leaders in the moving industry, we want to help our customers any way we can. While choosing the best mover and packer in the Toledo area make sure to review our effective packing tips compiled by experts in the industry.
Below are just a few of the steps you can take to maximize your packing process:
Color Coding:
Using a color-coding system to identify where each box will go at your new home is one effective way to keep you organized when unpacking.
Dedicate a Packing Area:
During the early stages, designate a room you don't use all that often to keep everything in order. Store your boxes and other packing material in this room of your home.
Start Small:
Start packing smaller areas of your home that you typically don't use that often. This can consist of storage closets, attics or sheds. Work your way up to bigger rooms as you go.
Professional Packing Services in Toledo
As your hired professional, you will have the benefit of:
On-site packing and unpacking services.
Packing supplies including durable moving boxes, crates, packing paper, bubbles wrap, etc.
Specialized moving for large or bulky items including pianos, gun safes and more.
Short or long-term storage options in our safe and secured warehouse storage facility.
Steven Moving & Storage of Toledo can provide you with all your packing and unpacking needs. Our staff consists of trained packers and movers who are ready to assist you on moving day!
Don't jeopardize your possessions and hire Stevens Moving & Storage of Toledo to handle your packing. Call us today at (419) 210-3933 to speak with one of our customer representatives. Fill out the form found on this page to receive a free moving quote and begin your next move with Stevens today.