Professional Packing Services in Toledo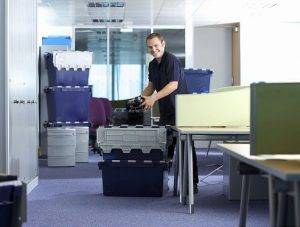 The moving process can be time-consuming, and the idea of packing your whole house into who-knows how many boxes, can be even more so. We at Stevens Moving & Storage of Toledo offer professional packing and unpacking services for local, long-distance, and international moves to or from the Toledo area. We provide our packing and unpacking services for homes and businesses. Stevens Moving & Storage of Toledo has decades of moving experience and can safely pack your belongings, so they won't get damaged during transport. Whether you need quick packing services because you're moving in a hurry, or you need help packing your whole house, we at Stevens of Toledo can do it. We offer a variety of specialty moving services such as antiques, gun safes, wine cellars, and more, so we can handle packing any item you may need transported.
Full-Service Packing for Moves
We have an array of packing supplies that can protect household goods. No matter what items you may be packing, such as clothing, antiques, power tools, furniture, mirrors and flat screen TVs, we have many different sizes of boxes to accommodate any size and fragility of your items. Our packing services are flexible. If you need us to pack up your whole home or business, we can do that. If you want to pack some of your items yourself and have Stevens pack the heavy or fragile items, we can do that too. Additionally, we offer unpacking services. Once you arrive to your new home, we can unpack some of the boxes or all of them, depending on your needs.
Toledo Storage Solutions
Putting some of your items in storage before, during, or after your move may be beneficial for you. Stevens Moving & Storage has secure storage facilities near Toledo. Each of our storage warehouses are maintained to meet the highest quality standards of safety, security, and cleanliness. We offer short-term and long-term storage depending on your storage needs, all at an affordable price.
Moving Company in Toledo, Ohio
We are professional movers serving Toledo, OH and surrounding areas, including Bowling Green, Lucas County, and Perrysburg. Our packing and unpacking services ensure that your items will be safe during transport and will give you one less thing to worry about during your move. Consider having a stress-free move by using our packing services. To learn more about our packing and unpacking service options, call us or fill out our free online quote form.