Crating Company in Toledo
Quick Read
Since 1969, Stevens Moving & Storage has been providing crating services using climate-controlled and secure warehouse facilities. Rely on Stevens crating services to provide security for items like:
Temperature-Sensitive Artwork
High-Value Jewelry
Important Personal & Professional Documents
Fragile Home & Office Equipment
Sturdy & Delicate Furniture
Our professional moving, storage and crating services are afforded the same benefits, including:
Fully licensed, insured and bonded moving crew
Family-owned & operated business, with over 35 years of experience in the industry
Clean, protective padding to ensure your items remain spotless and safe during transport
Certified ProMover by ATA (Formerly AMSA)
Contributors toward Move for Hunger
Whether you need crating services or you're ready to move, contact a professional moving company like Stevens Moving & Storage of Toledo.
Start by filling out our free quote form, or by giving us a call at (419) 729-8871.
At Stevens Moving & Storage of Toledo, we pride ourselves in offering everything our customers need for their crating services from start to finish. Whether you're looking for a reputable crating company to store your industrial equipment or ship your household furnishings to a neighboring town, Stevens can take care of it all. This includes providing any and all storage services for those who need long or short term storage during the crating process. When we store your belongings, we will take all of the necessary steps to ensure that they are kept safe and secure, this includes crating any large and/or delicate items that need extra protection while being stored in our warehouse. Our custom crating services are performed by seasoned crating experts who know from years of experience exactly how to make sure your crated items are protected, remain in the condition you left them in and are ready for pick-up.
Crating and Shipping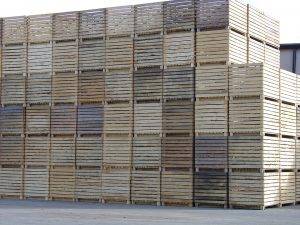 If you're unsure of whether you need crating services or of what crating is, the basic idea is that we build a wooden crate to protect industrial items as well as delicate items such as slate pool tables, motorcycles, slate table tops, marble, artwork, various types of furniture, chandeliers and other delicate or high value items. Most people who are storing or shipping such specialty items choose to include crating with their packing and/or storage services. Our crating and shipping services are perfect for those who are preparing to store or transport any furniture, fixtures & equipment or are wondering how to ship furniture or equipment from another state. We will take care of all the heavy lifting for you! Our crating experts will work closely with you so they can understand exactly what needs to be completed to get the crating job done right. Our customers are our number 1 priority, and we want you to be 100% satisfied with the crating services we provide to you. If you have any questions along the way, feel free to ask one of our professionals! Our crating specialists are always ready and eager to help with your crating and shipping requirements in the Toledo area. Just let us know what you need  to be crated and shipped, and we will tailor the crating process to meet your specific requirements.
Our professionals are experts at packing and crating. They have the ability and experience to create wood containers that protect your items to help insure their protection while in storage and their safe transportation during shipping. A Stevens crating service representative can help you determine your specific crating needs during your free no-obligation, in-home or in-office estimate. It's always best to let the crating experts handle large or fragile items, even those that you've owned and kept safe for years. This way, you can be completely confident that all your equipment and valuables are being well taken care of.
Crating & Storage Services
If you're looking for expert crating services in the Toledo area, look no further than Stevens Moving & Storage of Toledo. Whether you need to ship office or industrial equipment or need to make some extra room in your new home by storing crated belongings or you're just wondering about moving one piece of furniture long distance, we have packing & crating experts on hand to answer your questions and provide you with the services you need. Trust our decades of industry experience to provide you with the best crating services for your needs. Give us a call at (419) 210-3933 or fill out or free online quote form to get started today.