Local Moving Tips for Oregon, Ohio
Oregon, Ohio may sound a bit out of place, but since its incorporation in 1838, the city has become a hub for trade and commerce.
Adjacent to Toledo and the Maumee River, Oregon is a bustling city with just over 20,000 inhabitants. Energy has become a prominent economic field for Oregon over the last few decades.
With over 700 acres of prime real estate available in Oregon, large companies such as British Petroleum and Husky Refining LLC have set up operations in the area. Complementing the city's industrial aspects, Oregon also brandishes a multitude of state parks for nature enthusiasts. One of the most frequented destinations is Maumee Bay State Park. The site's proximity to the Maumee River and pristine golf course are sure to entertain all who visit.
If you're contemplating a local move to Oregon, there won't be any shortages in activities for you or your family.
But, before you get to your new home, here's a great tip when preparing for a local move: organize all your items and record them in an inventory. Not only will this help you visualize the items that you need and the ones you can part with, it also allows you to keep track of all your valuables after you get settled in.
An inventory serves as an easy checklist that can be used during the unpacking process. Simply separate the list by room, and check off items as you unpack them. This will let you keep a running list of everything you own and may even give you some decluttering inspiration!
Bowling Green Local Moves
In the sprawling countryside, Bowling Green has grown drastically since its incorporation as a town in 1855. Today, the city has a population of over 31,000 residents and is also the home of Bowling Green State University.
Accompanying the city's educational accolades, Bowling Green is also known for its public events. Citizens can enjoy happenings like the Black Swamp Arts Festival, national tractor pulling championships and even the Wood County Fair, which has had a variety of popular country artists headline.
Whether you're making a local move to Bowling Green for work or leisure, it's important to consider this next tip. Once you've got a good idea about what possessions you'll be hauling, it's pivotal that you select the correct means of transporting items. Heavy duty moving boxes are your best bet.
Pack all items from the same rooms in boxes together and don't be shy when applying the packaging tape to the tops and bottoms of the boxes.
Local Moving in Toledo
To this day, Toledo remains a significant commercial hub in the Midwest. The city's proximity to Lake Erie and the Maumee River also afford it unique recreational benefits. Aside from various parks and recreation centers blanketing the riverbank, Toledo is also home to attractions like the Toledo Zoo and the Toledo Museum of Art.
The art museum features a wide array of art, spanning from the Renaissance to the Modern era. It even has a comprehensive history of the city of Toledo, showcased in a glass pavilion, featuring thousands of works.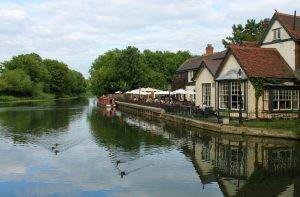 A local move to Toledo can be a challenge if you don't properly prepare for it, which is why you should consider utilizing this next tip! Once all your belongings have been collected and packed away, you should focus on gathering all your important documents.
Items like medical records, birth certificates, bills and passports should all be set aside and packed separately for convenience.
Keeping important documents on your person will give you some peace of mind. It is always a good idea to purchase a lock box or brief case for such documents – it is easier to keep track of a larger item versus several stray papers that are subject to get damaged from jostling them around in your bag.
Waterville Local Moving
The safest city in Ohio, Waterville is a quaint area with just over 5,500 residents. The town's dedication to its history and its devotion to small business are what set it apart from others in the region.
Located on the banks of the Maumee River, Waterville offers its citizens an unfiltered glimpse of nature. One of the most prominent nature parks in the area is Farnsworth Metropark.
The park allows Waterville residents to explore the wilderness through camping, kayaking and other activities.
Before you settle in after your local move to Waterville, you first need to be sure the city knows you're coming. To do this, file for a change in address. This ensures that all your mail, subscriptions, credit cards, insurance and utilities will find their way to you.
Local Moves Perrysburg
With a similar feel to Waterville, Perrysburg is slightly larger and more populated with about 22,000 residents.
A small business haven, Perrysburg has seen a spur in economic development. In fact, the newest inclusion to Perrysburg is a local juice bar.
If you're considering making a local move to Perrysburg, or any city for that matter, it is important to examine your options for a little extra help. This can be as simple as finding the right local moving company to suit your needs. One professional moving company that has served the metropolitan Toledo area since 1969 is Stevens Moving & Storage of Toledo.
The company's skilled movers are familiar with what it takes to successfully get you settled in your new home, and will stop at nothing to deliver this service.
Relocating may seem like a hassle, but with help from the right moving companies, it can actually be a breeze! Fill out a free online quote form to get started or call (419) 210-3933.