Local Movers in Ann Arbor, MI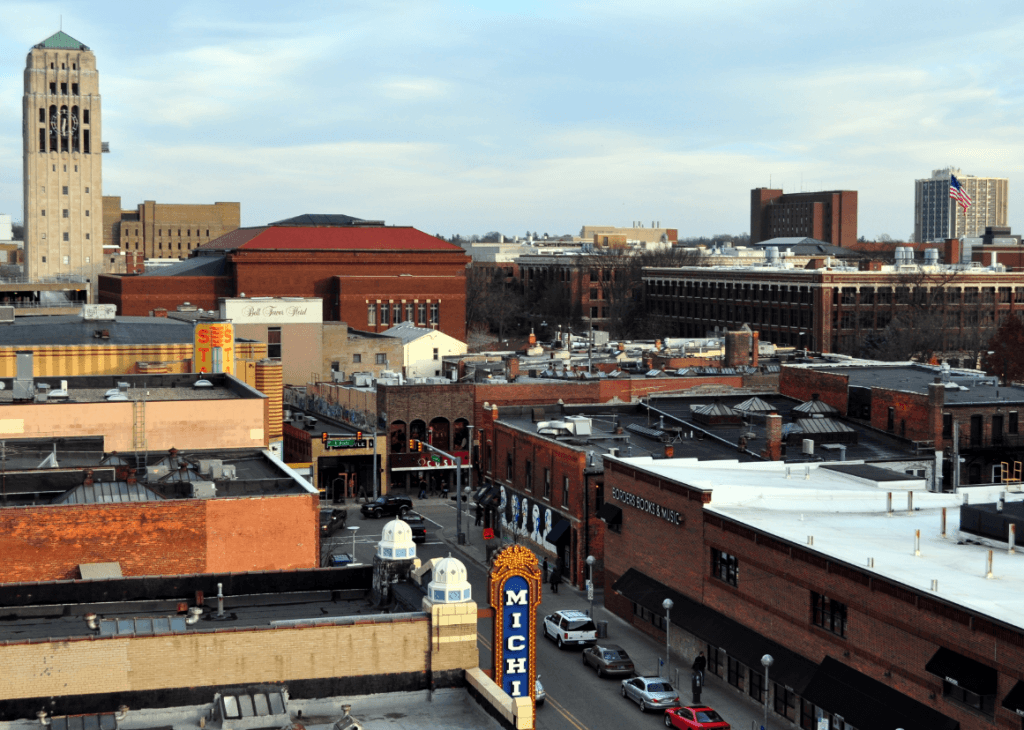 Planning on moving to Ann Arbor, Michigan? Stevens Moving and Storage is ready to help you make that move! We do the heavy lifting for you, so we can focus on making your move both hassle-free and stress-free. We plan, pack, transport, unpack and provide climate-controlled storage as needed. As one of the premier moving and storage companies among local movers, Stevens guarantees customer satisfaction with every move. Our dedicated team of professional movers will move you safely and securely while you settle into your new Ann Arbor home.
For a moving plan that's tailored to the services you require, fill out our free moving quote. This will help us get you started in the right direction. Our knowledgeable and expert staff has all the answers for the taking–just ask! Find out how affordable top-notch professional movers can really be!
Moving to Ann Arbor, MI
Ann Arbor is a city in Michigan with a population of 119,303. Living in Ann Arbor gives residents an urban-suburban feel. This bustling, progressive, park-filled paradise has a little bit of something for everyone. After just one visit, you'll want to make Ann Arbor, MI your new home!
Here are just a few reasons why Ann Arbor, MI is a wonderful place to stay:
University of Michigan: Ann Arbor is home to the University of Michigan and its more than 44,000 students. U of M's more famous buildings are central fixtures in town, and the university's law school campus features a host of gorgeous Gothic facades which are eerily similar to J.K. Rowling's fantasy school, Hogwarts.




Ann Arbor Art Fair: Each year, the city of Ann Arbor hosts the Ann Arbor Art Fair, which draws over 45,000 attendees! Additionally, the city provides many opportunities for creative types and would-be artists. The city is also home to thrift shops, galleries, new-age bookstores and grand performance venues.




Environmentally Conscious: Local Ann Arborites take pride in keeping their city a safe and beautiful place to live. Long before "going green" was a trend, Ann Arbor became a shining example for surrounding Michigan cities by implementing recycling bins almost all over town.




Outdoor Wonders: Ann Arbor is a refreshingly walkable city and is loaded with running and biking trails to boot! The city's various parks make it easy for one to hike, swim and get out and enjoy the sunshine! Gallup Park is one of Ann Arbor's most popular outdoor venues, offering 69 acres of natural landscapes leaving it hard to believe you're just a stone's throw away from the bustling city center.
No matter what you're into, Ann Arbor has it.
Ann Arbor Moving & Storage Services
When it comes to moving and storage, Stevens provides the most reliable and trusted moving and storage service available. It is one of the ways that we show our commitment to the many communities we serve. Not only do our movers and packers help transport and pack and unpack your goods, we are also capable of arranging your goods in your new home to your specifications. Don't have enough space for all your stuff? We provide you with warehouse storage available for short- or long-term services.
Sometimes, plans can change unexpectedly, and our experienced movers are ready to provide you with the flexibility you require while maintaining overall efficiency, security and affordability.
We have been in business since 1969 and it is satisfied customers like you who keep us on our toes to provide you with high-quality moving and storage services. We go the extra mile to make your move simple and give our undivided attention to every detail. That includes moving you with the same care and attention that we provide when moving one of our own. They receive the best moving experience possible, and so will you.
Professional Moving and Storage in Ann Arbor
We move folks locally, across the country, and around the world. For us, commercial moving services are par-for-the-course, with services provided to businesses, governments, and military personnel. We handle various types of specialty items such as hot tubs, wine cellars, pianos, motorcycles, computer equipment and gun safes with the utmost care, keeping them protected and secure during the entire moving process.
When you contact us for your next move, you can be sure that we will take the time to listen to your concerns and ensure that our customized plan for your move keeps those issues in mind. We move you as we would move ourselves, with complete dedication backed by professional experience and end-to-end service. No detail is too small or too large for us. That's what makes for a great move and a happy customer.
So let Stevens Moving & Storage help you with your next move to Ann Arbor, MI. For more information about how we can get you started, don't forget to fill out our free moving quote or you can call us toll-free at (844) 913-2629.