School Movers in Toledo, Ohio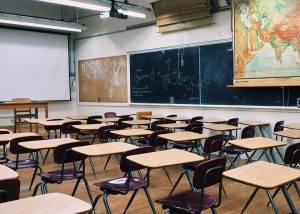 With more than 45 years in the moving and storage industry, Stevens Moving & Storage of Toledo is the go-to source for commercial moving services to and from the Toledo area. We specialize in moving educational facilities such as grade schools and universities. Our movers will work diligently with a school coordinator to prepare a relocation plan that suits your school's specific moving needs. If you work for an educational facility that is preparing to move locations, fill out our free online quote form today.
Grade School Moving Company
School staff and parents of grade schoolers will be glad to know that their children are being taken into account during school relocations. We place the highest importance on the students and tailor our moving arrangements to fit their requirements. We're an expert moving company that moves faculty offices, classroom, laboratories and school libraries. Our movers are highly trained and professional, always working quietly to keep from disrupting valuable class time. To keep your children safe, we only hire movers who have completed a criminal background check.
We always offer short-term and long-term warehouse storage solutions to store your school items, furniture and documents during the move. Our storage facilities have tons of space for storing larger items such as desks and bookshelves. All of our warehouses are climate-controlled to keep your school equipment safe during all weather conditions.
University Moving Services
Our local movers are highly experienced with grade school moves as well as university moves. Our movers are specially trained in moving student dorms, fraternity housing or apartments and other student homes. We can quickly move your educational facility before large-scale school events such as assemblies, pep rallies, orientation and sports games. We specialize in moving furniture and appliances of all shapes and sizes with the help of our special moving equipment. Our storage facilities are good for holding any items you want set aside during the move. We can also provide packing services for your school or university.
We specialize in residential, commercial and specialty moves. Our affordable moving and storage solutions are available to schools of all types such as private and charter schools, elementary schools, high schools, middle schools and universities. Our movers use only the best equipment and resources for moving your school supplies and furniture safely and efficiently. Our trucks and specialized carts are designed to make moving laboratory equipment and other delicate items safe and easy. We also offer easy-access, portable storage solutions for any extra items you want to keep on hand. You can trust that your treasured classroom items will be safely and securely locked away in our storage facility.
Call Stevens Moving & Storage of Toledo if the school you work for is moving locations. Our team of movers is well-equipped to provide you with a quick move for any budget. If you're preparing to coordinate a school, library or university relocation to or from Toledo or Northwest Ohio areas, call our moving crew or fill out our free online quote form.